Welcome to Eureka, KS, Class of 1961 Reunions
Welcome to 40th and 50th year reunions of the Class of '61.
Sherwood Applegate, Vera Atwood Jones, Harold Beedles, Virginia Bouldin Luscinki, Dick Braden, Jerry Brizendine, Dwight Carrington, Terry and Rosalie Shaw Clites, Bill Danley, Diana Divine McMullen, Don Divine, Lonnie Hansen, Steve Harding, Mary Hodgson, Sue King, Evelyn McCormack Hendrickson, Lyle Mize, Verda Mize Sullivan, Tom and Sally Teter Monninger, Herb Newlon, Richard Nixon, Gail O'Shea Rothman, Ellen Purkeypile Martin, Peggy Reed Kreiser, Carolyn Scott Voelmeck, Robert H. Simmons, Madeline Wood Anderson, Carmen Wygle Lilley and Jack Wyman gathered together June 16 to reunite, some for the first time in 40 years.
Others attended in spirit--like Tom Ashlock, whose wife Jean Harlen had emergency gall bladder surgery on June 12, preventing them from attending. Also Judy Clark Alex, Janice Brooks Johnson, Patty Kester Brown, who wrote the nicest letter, Roy Sears, Janet Truskett, who sent pictures, Don Wiggins, and Ginny Zenishek Struble sent their regrets.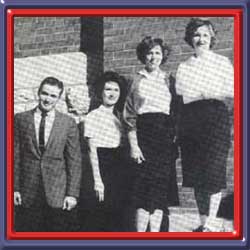 The festivities started off with the best rolls in America, made by Leta Gray Divine. And everything else during the day was just as great. Many took advantage of the complimentary passes to Eureka Downs, although Chuck Kreiser did say 61 wasn't the number to bet on.
Although we know you remember class officers, just for fun they include Dick Braden, vice president; Sue King, treasurer; Peggy Reed, secretary; and Janice Brooks, president.


The first 50th reunion was held October 1, 2010. The Class of 1961 was honored during the Homecoming Activities. Graduates and spouses were invited for coffee, tea and snacks in the school library. The Student Council provided the Class of '61 with lunch and a tour of the high school.
50th Class Reunion Picture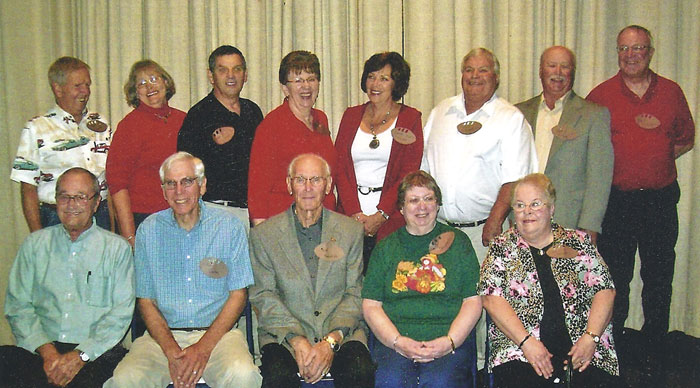 Front Row (Left to Right): Dick Braden, Bill Danley, Mr. Louis Hayworth, outstanding science teacher; Vera Atwood Jones and Diana Divine McMullen. Back Row: (L to R)): Dwight Carrington, Peggy Reed Kreiser, Jack Wyman, Evelyn McCormack Hendrickson, Carolyn Scott Voelmeck, Lonnie Hansen , Steve Harding and Harold Beedles.
Members of the class were introduced (as a group) and honored during the Homecoming Assembly at 1:30 p.m. Following the assembly, transportation, a school bus, was provided to ride in during the Homecoming Parade.
A special section of the bleachers was reserved for the Class of '61 to watch the Tornadoes play against the Burlington Wildcats at 7 p.m. Although Eureka lost 48-12, fun was shared by the alums.
The second 50th reunion was held June 18, 2011. The Class celebrated at the Eureka Lake Cabin. Between 1:30 and 4 p.m classmates were given the option of visiting with each other at the cabin, the Historical Museum or the newly opened Greenwood Hotel Museum. Then a lovely dinner was held at the cabin at 6:30 p.m. See more pictures of this 50th reunion at Reunion 1.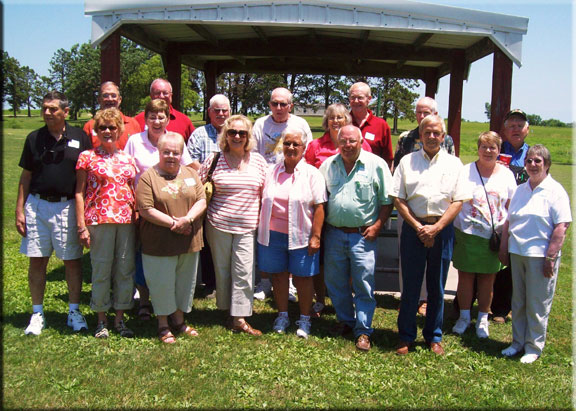 Front Row: Jack Wyman, Ginny Zenishek Struble, Evelyn McCormack Hendrickson, Diana Divine McMullen, Madeline Wood Anderson, Mary Hodgson, Don Divine, Dwight Carrington, Pat Kester Brown and Vera Atwood Jones. Back Row: Roy Sears, Harold Beedles, Richard Nixon, Sherwood Applegate, Peggy Reed Kreiser, Dennis Bennett, Jerry Brizendine and David Shaw.
Now Sing Along . . . .
Cheer Cheer for ole EHS
We've got the team we know is the best;
Everybody cheer on high;
We'll be the victors bye and bye.
Out come the huskies brave and strong;
Old EHS will win over all.
While our loyal team is marching
onward to victory.
Rah! Rah! Rah!